David Furbish
Professor and Chairman, Department of Earth and Environmental Sciences
Vanderbilt University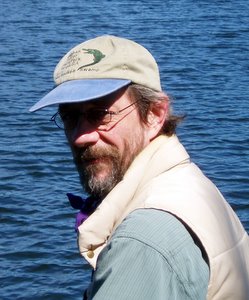 Email: David.J.Furbish@vanderbilt.edu
Education
Ph.D. University of Colorado, 1985
M.S. California State University, Humboldt, 1981
B.S. University of North Carolina, Chapel Hill, 1978
Research Interests & Specializations
Hydrology
Geomorphology
Fluid Mechanics
Brief Biography
David Furbish's research involves environmental fluid mechanics and transport theory applied to problems in hydrology and geomorphology, and the intersection of these fields with ecology. His work combines theoretical, experimental, computational and field-based components aimed at understanding the dynamics of Earth surface, and near-surface, systems spanning human to geomorphic time scales. More recently, David has become increasingly involved in research — inspired by Calvin Miller and his students — aimed at understanding the fluid dynamics of magma chambers. David has taught courses in introductory geology, hydrology and geomorphology, transport processes in Earth and environmental systems, and hydrodynamics. He is author of the text, "Fluid Physics in Geology," published by Oxford University Press.
David's current research with the Earth-Surface Dynamics and Fluid Mechanics group is centered on four projects involving collaborators around the nation. The first is aimed at clarifying the mechanisms of soil transport and production associated with biological activity in concert with geochemical processes, and the coevolution of soils and hillslopes over thousands to millions of years. The second project is aimed at clarifying the dynamics of river bars as influenced by flooding, and nutrient transport and spiraling in relation to bar morphology, benthic habitat and benthic trophic structure. This work involves theoretical and field-based components. The third project is focused on coastal eco-hydrology; it is aimed at characterizing the geomorphic-ecological response of salt marshes to changing sea level as influenced by feedbacks between tidal inundation and plant structure. In addition, David is collaborating with Calvin Miller and his students on theoretical and experimental work aimed at clarifying how magmas and particles interact and undergo stirring and mixing during emplacement within magma chambers.
CRESP Projects
Assessment of the River Mechanics and Riparian Conditions Influencing Erosion and Sedimentation Associated with Locke Island, Columbia River, Washington
Publications
Loy, G. E., D. J. Furbish, and A. Covey (2010), Effects of channel constriction on upstream steering of flow around Locke Island, Columbia River, Washington, (Abstract), 2010 Fall Meeting, American Geophysical Union, San Francisco, California, 13-17 Dec.
Additional Information:
Detailed profile – Vanderbilt University


for publications, presentations, reviews and reports