George M. Hornberger
Director, Vanderbilt Institute for Energy & Environment
Distinguished University Professor – Craig E. Philip Professor of Engineering – Professor of Civil and Environmental Engineering
Vanderbilt University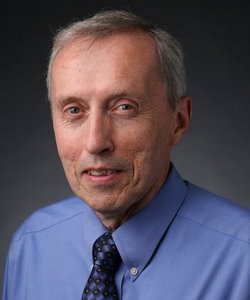 Email: g.hornberger@vanderbilt.edu
Education
Ph.D., Hydrology, Stanford University, 1970
M.S.C.E., Hydrology, Drexel University, 1967
B.S.C.E., Drexel University, 1965
Research Interests
Understanding how hydrological processes affect the transport of dissolved and suspended constituents through catchments and aquifers is one of the main aims of studies of Earth surface processes. I have long-standing research interests in studying questions related to such processes, including current projects on the transport of dissolved organic carbon through catchments in collaboration with colleagues at Stroud Water Center. VIEE research is aimed at multidisciplinary assessments of the environmental impacts of individual, institutional, and societal choices related to energy, water, and climate. In this vein, I have current projects on nitrogen fertilizer use and fate as influenced by individual behavior, on life-cycle analyses of environmental footprints for an inland water transport company, and on the water-energy nexus in collaboration with a number of colleagues at Vanderbilt. I also am participating in collaborative research with colleagues at Vanderbilt and colleagues in Sri Lanka on studies of environmental impacts of energy and water use in a changing climate and on how household and farmer beliefs and behaviors affect and are affected by these responses.
Brief Biography
George M. Hornberger is Distinguished University Professor at Vanderbilt University, where he is the Director of the Vanderbilt Institute for Energy and the Environment. He has a shared appointment as the Craig E. Philip Professor of Engineering and as Professor of Earth and Environmental Sciences there. He previously was a professor at the University of Virginia for many years where he held the Ernest H. Ern Chair of Environmental Sciences. He also has been a visiting scholar at the Australian National University, Lancaster University, Stanford University, the United States Geological Survey (USGS), the University of Colorado, and the University of California at Berkeley.
His research is aimed at understanding complex water-energy-climate interrelationships and at how hydrological processes affect the transport of dissolved and suspended constituents through catchments and aquifers. He is an ISI "Highly Cited Researcher" in environmental sciences and engineering, a recognition given to the top 250 individual researchers in each of 21 subject categories. Hornberger is a fellow of the American Geophysical Union (AGU), a fellow of the Geological Society of America, and a fellow of the Association for Women in Science. He was President of the Hydrology Section of AGU from 2006-2008. He has been a member of the Nuclear Waste Technical Review Board (a Presidential appointment) since April 2004. He has served on numerous boards and committees of the National Academies, including as chair of the Commission on Geosciences, Environment, and Resources (1996-2000) and chair of the Board on Earth Sciences and Resources (2003-2009). Professor Hornberger won the Robert E. Horton Award (Hydrology Section) from the AGU in 1993.
In 1995, he received the John Wesley Powell Award from the USGS. In 1999, he was presented with the Excellence in Geophysical Education Award by the AGU and in 2007 he was selected Virginia Outstanding Scientist. Professor Hornberger is a member of the U.S. National Academy of Engineering, having been elected in 1996.
CRESP Projects
Assessment of the River Mechanics and Riparian Conditions Influencing Erosion and Sedimentation Associated with Locke Island, Columbia River, Washington
Committee Service
Additional Information:
Detailed profile -Vanderbilt University


for publications, presentations, reviews and reports