Chen Gruber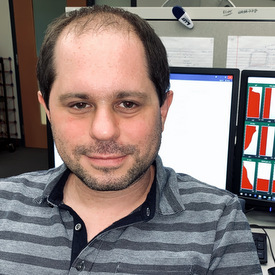 "I'm developing a tool that enhances the performance and safety of tank waste closure by reducing uncertainty in the tank integrity and performance under closure."
After completing both his B.Sc. and M.Sc. degrees in Geology and Environmental Sciences, Chen Gruber completed a Ph.D. in the Geochemistry of Water, all at Ben-Gurion University of the Negev.
Next, he was seeking a post-doctoral position in the field of Environmental Geochemistry. A mutual colleague who had conducted research at Vanderbilt University and was aware of the school's strengths in this area recommended Chen to Dr. David Kosson, CRESP Principal Investigator.
Chen's research focuses on the integrity and containment of high-level waste tanks at the Hanford site. The goal of his work is to estimate by modeling, the time to failure and the rate and extent of the post-closure release of radionuclides in buried single-shell tanks at the DOE Hanford Site. This is a tool for assessing the potential impact of residual radionuclides remaining in the tanks after closure, and provides the source term for subsequent evaluation of impact on groundwater. The estimation is based on a reactive transport model that considers processes that may occur under the environmental conditions at Hanford site, and different end-state scenarios.
"My research is directly aligned with the CRESP project of waste processing & special nuclear materials," said Chen. "I'm developing a tool that enhances the performance and safety of tank waste closure by reducing uncertainty in the tank integrity and performance under closure."
"Dr. Kosson is my research advisor, and provides a supportive working environment that furthers my goals in becoming an independent researcher," said Chen. He also credits Dr. Kosson for introducing him to key people and scientists in his specific research field, and exposes him to different and new ways of thinking.