Selected CRESP II Reports, Reviews and Presentations 2000 - 2006
CRESP II FINAL REPORT:
A Summary of Work 2000 - 2006
CRESP Grant Period: September 29, 2000 - September 29, 2006
Instrument No. DE - FG26-00NT 40938 (Original Instrument No. DE-FG01-03EW15336) Submitted by Charles W. Powers, PI CRESP II
View Report

Legal and Related Policy Issues for Integrating Remediation and NRD Strategies at DOE Sites
View Report

Natural Resource Damages and the Department of Energy: Integrating Ecosystem Recovery into the Remediation Process
View Report

Natural Resource Damage Assessments as Related to Department of Energy Site Clean up Concerns: A Preliminary Review
View Report

Community Health Assurance Monitoring Program (CHAMP) Radionuclide Biomonitoring Tests National Expert Perspectives September 21, 2006
View Report

End State Land Uses, Sustainable Protective Systems, and Risk Management: A Challenge for Multi-Generational Stewards View Report

Land Use Controls, Public Health Surveillance, and the Public's Peace of Mind at the United States Major Nuclear Weapons Legacy Sites
View Report

Environmental Cleanup of the Nation's Former Nuclear Weapons Sites:Unprecedented Public-Private Challenges at the Largest Facilities
View Report

CommunityHealth Assurance Monitoring Program - CHAMP Technical and Feasibility Assessment of CHAMP as part of a Sustainable Long-term Stewardship Vision, October 25, 2005
View Report

CRESP Review of Pilot Studies in Support of Steam Reforming Processes for treating Sodium-Bearing Wastes (SBW) at the Idaho National Laboratory View Letter Report 1, Final Follow-up letter October 2006

Preliminary Risk Evaluation of Calcined High-Level Waste Disposition at the Idaho Site
Full Report (Idaho National Laboratory Site Environmental Management Citizens Advisory Board Review of CRESP Report
Recommendation # 123)

Preliminary Risk Evaluation of Options For Buried Waste Disposition at the Idaho Site
Full Report (Idaho National Laboratory Site Environmental Management Citizens Advisory Board Review of CRESP Report Recommendation # 124)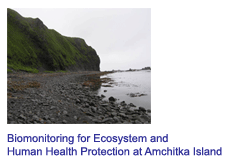 The purpose of the biomonitoring report is to provide CRESP's recommendations for a biomonitoring plan at Amchitka, particularly with respect to what radionuclides to examine, what species should serve as bioindicators, where to monitor, and when to monitor. The CRESP conclusions are based on the data presented in the full CRESP report (Powers et al. 2005) and addendum (Powers et al. 2006). This report was reviewed by the CRESP Peer Review Committee.
View Biomonitoring Report
View Peer Review Committee Report
---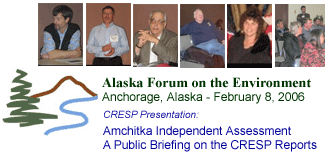 CRESP was asked by the Alaska Department of Environmental Conservation (ADEC) to present the results of its work on Amchitka to the Amchitka Nuclear Test Sites Update session of the 2006 Alaska Forum on the Environment held in Anchorage on February 8, 2006. This presentation provides the single best graphic summary of CRESP's total Amchitka work product and its implications. View Presentation

(Large file size 7.93MB) Photographs

After the CRESP Presentation, John Halverson, ADEC Environmental Program Manager and the Department's Amchitka lead, described the progress made to date in converting this work into a process for designing a long-term surveillance and maintenance (LTSM) program. Ray Plieness, Director of the Land and Site Management Office of DOE's Office of Legacy Management, described the work of his office and how it would work with Alaskans to implement and sustain the LTSM.
---

On August 1 2005 CRESP, an independent consortium of university-based environmental scientists, announced the results from three 2004 expeditions to Amchitka Island in the western Aleutians to assess radionuclides in that marine environment. Three nuclear test shots were set off under Amchitka by the U.S. Government during a six-year period beginning in 1965.
View Complete Report

---
Addendum to Final Amchitka Report:
Additional Radiological Data for Bioindicator Selection
In this addendum we report on the following additional analyses performed by CRESP after preparation of the Report (July 2005): 1) Additional actinide analyses of Ulva and kelp (including Laminaria), 2) Actinide analyses for additional Rock Jingles, Blue Mussels and Horse Mussels, and 3) Cesium-137, Co-60 and I-129 analyses of additional fish (Atka Mackerel, Rock Sole, Ocean Perch, Rock Greenling). These analyses were performed to aid in discrimination for bioindicator selection and provide additional clarification of differences in radionuclide content measured at Amchitka in comparison to Kiska. The overall conclusion of the Amchitka Independent Science Assessment: Biological and Geophysical Aspects of Potential Radionuclide Exposure in the Amchitka Marine Environment remains the same: 1) the foods tested are safe to eat, with radionuclide levels below published human health guidance levels, 2) our data do not suggest that radionuclides in biota collected from Amchitka are attributable to the Amchitka test shots, and 3) a combination of sedentary and mobile organisms at different trophic levels is ideal for a continued biomonitoring program at Amchitka. The addendum was reviewed by the CRESP Peer Review Committee. (View Committee report) View Addendum to Final Amchitka Report

AMCHITKA RADIONUCLIDE DATA SET

CRESP is pleased to make available the raw analytic results for radionuclides in biota from its Independent Scientific Assessment of the Amchitka marine environment, including the reference site at Kiska Island. View Data Set and Note on wet to dry weight conversions. (GPS Locations)

CRESP Answers to Questions from Stakeholders
CRESP held public meetings in Anchorage, Alaska to present the results of its Amchitka independent assessment study on the evening of August 1 and the morning of August 2, 2005. The CRESP presentation was followed that evening by an hour and a half of questions from participants; and, as planned, a second and more informal open session for additional questions was held for about four hours the next morning.
About 70 persons including members of the press attended one or the other of these meetings. For those who could not attend the meetings, we provide some of the key questions CRESP was asked and the answers provided in these meetings.

Briefing on CRESP Amchitka Report August 1, 2005 View Presentation; Meeting Photos
CRESP Press Release: Amchitka Assessment Results (August 1, 2005)
Press Coverage: Anchorage Daily News, EurekAlert!, The Washington Times

Peer Review of the Amchitka Report
Before releasing the report, CRESP did, as it typically does with important studies, ask its distinguished peer review committee to review its draft report so it could improve the final version. Arthur Upton, former director of the National Cancer Institute and chair of the CRESP Review Committee on behalf of its sub-committee (John F. Ahearne, Melvin W. Carter, Charles Fairhurst, Ph.D., Morton Lippmann) on Amchitka said of that draft: "The methods were well conceived, expertly applied and have produced results that are definitive and thereby enable conclusions that should be meaningful to all concerned…. In view of the high quality of the studies reported, and their failure to find evidence of the release of radioactivity from the shot cavities into the surrounding environment, the results that are presented should be reassuring to concerned stakeholders." View Peer Review Committee Report

---

A day and a half workshop, for federal agencies with regulatory, stewardship and similar responsibilities for sites where radiological and other contamination requires sustained management when active remedial activities have been completed.
The purpose was to promote active informal discussion and review among these federal entities of the policies and guidance currently in place and being developed for this complex of issues. The discussion was convened by, and informed by work produced by the Consortium for Risk Evaluation with Stakeholder Participation (CRESP) and participating agencies.The workshop included a packet of background readings from EPA, NRC, DOE and CRESP. Agenda, Presentations and Background Readings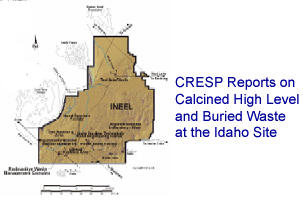 CRESP was asked by DOE to carry out an independent evaluation of the risk characterization for several alternatives for management of the calcined HLW. This report is the result of review by CRESP of three alternatives specified by the Department of Energy for the disposition of the calcined HLW as part of a process to facilitate risk-informed decision making.

Full Report //

Report without appendices //

Appendices Only
Idaho National Laboratory Site Environmental Management Citizens Advisory Board
Review of Review of Report Recommendation # 123

The objective of this report is to develop a framework for the comparative life-cycle risk evaluation of management options for ultimate disposition of the wastes buried in the SDA. Remedial approaches may be implemented either individually or in combination to achieve the desired remedial objectives. In this context, it is essential to decide which combinations of activities are appropriate for the subsections of the SDA or contaminants present based on the characteristics of the buried wastes and other factors. Developing a risk-informed decision that considers human health and ecological risks along with other social factors should include explicit consideration of the trade-offs between reductions in human health risk achieved through each remediation option and the additional human health risks incurred as part of achieving that option. Thus, human health risk evaluation should include consideration of risks to remediation workers and other on-site and off-site populations for current and future generations. This evaluation should also consider the context of nearby waste management closure and remediation needs remaining risks and long-term stewardship needs at the SDA. Integrated evaluation of this range of human health risks often is not achieved as part of the remedial decision process. This report provides a framework and preliminary evaluation to achieve such integration.

Full Report
Idaho National Laboratory Site Environmental Management Citizens Advisory Board
Review of Review of Report Recommendation # 124
CRESP Letter to the INEEL Citizens Advisory Board

View Letter
CRESP Symposium: New Challenges and Approaches for Assessing Risk at Radioactive Sites

The Society for Risk Analysis Annual Meeting 2004 Presentations:
Risk in Complex Environments: Whence & Whither in a Continuing Struggle Better to Relate
Risk Evaluation to the Cleanup of Radioactive Sites

View presentation
A Framework for Endstate Planning for the Impacts of Contamination and Cleanup on Ecological Receptors

View presentation
Improving Public-Private Contracts for Managing Risks

View presentation
Risk in TechnicallySevere Environments: Contaminant Isolation Facilities

View presentation
---
CRESP II: Helping to Rethink the Path Forward to Long-Term Environmental Protection
Incorporating Risk in DOE's Cleanup Decisions
past, present and future
by Charles W. Powers, Ph.D and PI CRESP II
A Presentation to the Committee on Risk-Based Approaches for Disposition of TRU and HL Radioactive Wastes, NRC's Board on Radioactive Waste Management in Augusta, Georgia, January 28, 2004


View presentation
A presentation given by Charles W. Powers, Ph.D. and PI CRESP IIin Richland, Washington March 10, 2004.

View presentation
---
Reports and Presentations
---
A Literature Guide Supporting the Planning and Implementation
of a Risk-based End State Program:
A Report prepared for the Department of Energy by CRESP II
This guide is intended to present the reader with a set of quality peer reviewed literature that will aid the readers' understanding of human and ecological risk involved in DOE's cleanup efforts in "achieving clearly defined, risk-based end states" as stated in the EM's Cleanup Driven by Risk Based End States Policy. As an aid in understanding the material in the report CRESP has developed a course where a series of discussions will be held that will explore key concepts in RBES.
Learn more about the Report and Course

View report
---
The Roles for Risk in DOE Cleanup
A Presentation given at the National Govenors Assciation and National Association of Attorneys General Meeting November 10, 2002
by Charles W. Powers, PI CRESP II

View presentation
---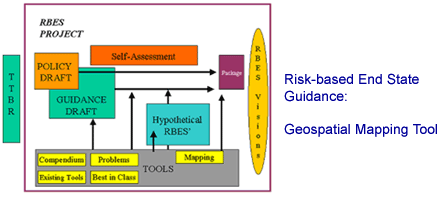 CRESP was asked to design a core set of geospatial maps that can be developed and used by all of the Department of Energy's former nuclear weapons sites. Their purpose would be to effectively communicate the end-state vision for each site that is being developed through the Risk-Based End State (RBES) project, to regulators, DOE-HQ, and other important stakeholders. These core maps would also permit a comparison between that end-state vision and the site's current environmental and physical condition, with a focus on the existing on and off-site risks to human and ecological receptors.

View report from the Social and Economic Impact and Public Policy Center of Expertise
---
THE ROLE OF RISK AND FUTURE LAND USE IN CLEANUP AT THE DEPARTMENT OF ENERGY

As a result of the Legacy of the Cold War, several governmental agencies are involved in massive cleanup and remediation projects. In this paper we examine the role of risk and future land use designations in cleanup at the Department of Energy, using a self-assessment of 36 sites. We then discuss the tools that might be required to address the cleanup challenge. Much of the current cleanup program is driven by compliance with federal and state statutes and regulations, presumably to protect human health and the environment. Compliance, however, is not synonymous with cleanup. Although some of these laws and regulations take risk into account, the lack of site-specific data on exposures and risk scenarios, and the lack of attention to future land use or endstates has potentially resulted in a disconnect between risk and cleanup, risk and final endstates, and the cleanup levels and endstate or subsequent land use. Partly this disconnect results from the need for a range of technical, economic, sociological and public policy tools to address the issues.
A better transfer of information among and within Department of Energy facilities and operations offices is required. Further, making decisions with the final endstate in mind involves a number of risk tradeoffs, including:
ecological and human health,

worker and public health,

among competing contaminated areas,

among temporal patterns of cleanup,

among species (plants vs animals, one animal vs another, and

among the sites across the complex.
Such risk balancing is required within sites and among Department of Energy sites, and perhaps, among other remediation sites (such as those of Department of Defense or Superfund sites).

View report
---
CRESP Responds to DOE Request for Review
In 2000 at the request of the manager of the Savannah River Site (SRS) CRESP reviewed the risk prioritization process as it shapes the SRS integrated priority list. CRESP experience over the last 5 years in the areas of public health and safety, environmental protection, worker health and safety, cost effectiveness, and public and community relations contributed to the report.
The Risk Prioritization Process as it Shapes the SRS Integrated Priority List: An Initial Review of the Savannah River Site Model (2000) View Full Report
---
CRESP Peer Review Committee Report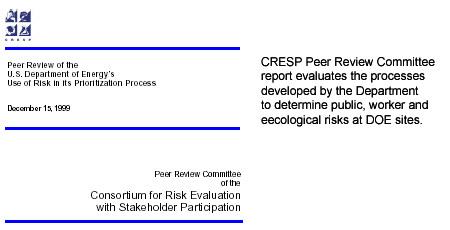 View the report
---
Social Economic and Impact Center Report:
Policy Options for Contributing to Regional Economic Stability at USDOE Facilities
Drawing from studies on US DOE facilities, this CRESP Researcher Report focuses on key policy-related issues and options that would help the most economically distressed regions facing cutbacks in DOE employment to achieve smart decline with less pain and ultimately a more stable economy.
Two questions of concern to many stakeholders in communities near major DOE sites are:
1. How has DOE presence affected the areas surrounding the sites? What do theory, history and likely future trends tell us about the economic health of these DOE-site-centered regions?

2. What can be done by the Federal government to help these site-regions establish more sustainable and less volatile economies?

View report from the Social and Economic Impact Center of Expertise

---
Defining background groundwater quality
at the Savannah River Site
The Savannah River Site (SRS) was established in the 1950s as a U.S. Department of Energy installation for the production of strategically important nuclear materials. During the course of operations, hazardous and radioactive wastes in solid and liquid forms have been generated and disposed of on-site. As a result of these activities, constituents of potential concern (COPCS) have migrated into groundwater underlying the site. However, elevated concentrations of COPCs also may be a consequence of natural occurrence in geologic materials in the vadose zone or aquifer sediments, or land use practices prior to the formation of SRS. Furthermore, practical implementation of site remediation and environmental monitoring activities requires distinction of contamination that is attributable to defined localized sources in contrast to diffuse contamination that cannot be attributed to distinct natural or anthropogenic sources. The objective of the work presented in this report was to formulate approaches for defining background or baseline levels of seventeen COPCs in groundwater.
View report from the Exposure Assessment Center of Expertise
Defining Background Groundwater Quality at the Savannah River Site
(V.M. Vyas, A. Roy, W. Strawderman, P.G. Georgopoulos, D.S. Kosson)
Large file - may take a long time to download.
Try it in three parts: Part 1 | Part 2 | Part 3

More information on the Exposure Assessment Center of Expertise
---
Modeling Forest Fires at or Near Nuclear and Hazardous Waste Sites of DOE
CRESP research is relevant to many timely issues such as the recent fires at Los Alamos. CRESP Exposure Assessment Center reports include:
Numerical Modeling of Forest Fires with a 3-D Meteorological/Dispersion Model

Investigations of the Effects of Forest Fires on the Atmosphere using a coupled Forest-Fire/Meteorology- Dispersion Model

Modeling the Impact of Forest Fires on the Emission and Atmospheric Transport of Contaminants
A new CRESP research report "A Coupled Forest Fire Emission and Atmospheric Dispersion Model: Application to the Savannah River Site (SRS)" is available in full text.

---
Can Science Really Foster
Better Public Policy Decisions?
The Lessons of the CRESP Experience
How and why science from CRESP is being used directly to impact decisions that improve regulatory response and the very structure of regulation governing DOE environmental management activity.
This CRESP Program, including presentations and posters, was held at the EMSP National Workshop, Atlanta, Georgia, April 26, 2000.
---
CRESP EFFORTS TO INFORM BETTER POLICY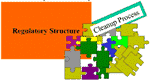 Responsive Science:
Forging Regulatory Resolution at DOE Sites

Presentations and posters.



---

These documents can be read with Adobe Acrobat

This page updated 8/14/07 ---