PRACOP Archive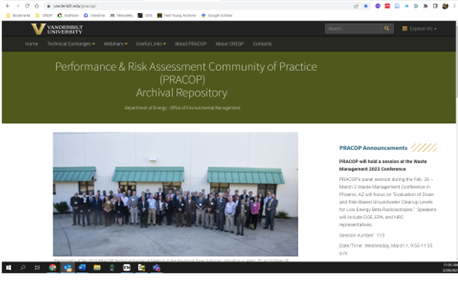 https://www.vanderbilt.edu/pracop/
Performance assessments (PAs) and risk assessments (RAs) evaluate the impact of a proposed remedial action on human health and the environment and provide a demonstration of compliance and important technical inputs to meet regulatory requirements for: 1) waste form development and implementation; 2) tank closure activities; 3) waste site closure activities (e.g., cribs and trenches); 4) in-situ decontamination and decommissioning; 5) soil and groundwater remediation; and 6) management of disposal facilities (e.g., land-fills or near surface disposal facilities). The PAs and RAs or P&RAs become public documents upon completion.  As such, the Department of Energy needs to ensure that P&RAs continue to be performed and documented consistently and to high standards.
To be added to the distribution list for PRACOP activities, or for questions or comments, contact Dr. Karen Skubal of the DOE Office of Environmental Management at karen.skubal@em.doe.gov.
For questions about the PRACOP Archival site hosted by CRESP at Vanderbilt University, please email cresplibrarian@vanderbilt.edu.
Disclaimer: Display of the presentations and discussion material of the PRACOP Webinars and Technical Exchanges on this Website should not be construed to imply or in any manner state that the Department sanctions or endorses the entity that the PRACOP presenter is affiliated with; further, the views expressed in the presentation or discussion are those of individual PRACOP members only, and not necessarily the views of the Department.