James H. Clarke
Professor of the Practice – Department of Civil and Environmental Engineering
Vanderbilt University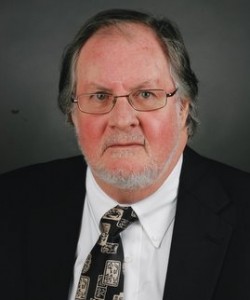 Email: james.h.clarke@vanderbilt.edu
Education
Ph.D. Theoretical Chemistry – The Johns Hopkins University, 1973
B.A. with honors, Chemistry – Rockford College
Research Interests
Chemical and nuclear waste management, human health and ecological risk assessment, sustainable approaches to the remediation of contaminated sites, long term stewardship of legacy hazardous and radioactive waste sites, environmental policy and environmental forensics.
Brief Biography
Dr. Jim Clarke is Professor of the Practice of Civil & Environmental Engineering and Professor of Earth & Environmental Sciences at Vanderbilt University. Prior to joining the full-time Vanderbilt faculty 1n 2000, Jim was Chairman, President and CEO of an internationally recognized consulting firm that specialized in the investigation and remediation of contaminated sites, risk assessment and industrial wastewater treatment. His research at Vanderbilt focuses on the investigation, remediation and long-term management of legacy hazardous chemical and radioactive waste sites with an emphasis on performance assessment and confirmation for near surface disposal facilities and the decommissioning of nuclear, radiological and industrial facilities.
Jim was a member of the former Nuclear Regulatory Commission (NRC) Advisory Committee on Nuclear Waste and Materials and advised the Commission and the staff on issues concerning the Yucca Mountain project, risk-informed performance-based approaches to site decommissioning and remediation (lead Committee member) and the overall nuclear waste regulatory program. He is a consultant to the NRC Advisory Committee for Reactor Safeguards and its subcommittee on Radiation Protection and Nuclear Materials. Dr. Clarke has served on committees of the National Academies (the Committee on Remediation of Buried and Tank Waste) and is a peer reviewer for the National Academy, the U.S. Environmental Protection Agency, the Department of Energy and several journals and book publishers. Jim received his Ph.D. in theoretical physical chemistry from The Johns Hopkins University and a B.A. in chemistry with honors from Rockford College.
CRESP Projects
Long-term Performance of Near Surface Contamination Isolation Systems
D & D Activities and Decisions
Publications
"Development of a Risk-Informed Approach to Determining D&D Priorities", James H. Clarke, Chuck Powers and David Kosson, Presented at the American Nuclear Society Topical Meeting and Technology Expo on Decommissioning, Decontamination and Reutilization, Idaho Falls, ID, August 2010.
"An Application of  Event Tree Analysis to Ecological Systems: Understanding the Long-term Performance of Engineered Covers" Brooke Traynham, James H Clarke, Joanna Burger and W. Jody Waugh, submitted to Environmental Monitoring and Measurement, July 2010.
"Assessing the Importance of Ecological Processes through Biomonitoring and Ecological Forecasting at Nuclear Materials and Waste Sites" Brooke Traynham, James H. Clarke, and Joanna Burger, chapter in

Radiological Assessment

, Springer-Verlag, in press 2010'
"Monitoring the Long-Term Performance of Engineered Containment Systems: Probabilistic Performance Assessment for Dominant Ecological Processes", Brooke Traynham, James H. Clarke, Joanna Burger, and W. Jody Waugh, invited submittal to Risk Analysis, submitted for publication June 2010.
"Information Needs for Siting New and Evaluating Current Nuclear Facilities: Ecology, Fate and Transport and Human Health", Joanna Burger, James H. Clarke and Michael Gochfeld, Environmental Monitoring and Assessessment. February 2010.
"Estimating Surface Facility Throughput During the Pre-Closure Emplacement Period at Yucca Mountain, NV", Leah Spradley, Mark Abkowitz and James H. Clarke, Nuclear Technology v.169, pp 180-194, February 2010.
"Estimating the Frequencies of Drop Events During the Preclosure Emplacement Period at Yucca Mountain, NV", Leah Spradley, Mark Abkowitz and James H. Clarke, Nuclear Technology v.170, pp 322-335, May 2010.
"Tool for Assessment of Process Importance at the Ground Water/ Surface Water Interface', Ravi. C. Palakodeti, Eugene J. LeBoeuf and James H. Clarke, Journal of Environmental Management, (2009).
"Monitoring the Long-Term Performance of Engineered Containment Systems: Role of Ecological Processes",  Brooke Trayhnam, James H. Clarke, Joanna Burger and Jody Waugh, Waste Management 09
"Evaluation of Transportation and Acceptance Strategies Associated with the Potential Yucca Mountain Waste Management System", Leah L. Spradley, Mark Abkowitz and James H. Clarke, Nuclear Technology v. 165, pp 209-221 Feb 2009.
"Life-Cycle Risk Analysis for U.S. DOE Wastes in Shallow Land Burial',  Kevin G. Brown, David S. Kosson, Charles W. Powers, James H. Clarke, and Frank L. Parker, Waste Management 09.
"Improving Consistency of Performance Assessments in the U.S. DOE Complex",  Martin J. LeTourneau, Steven Khran, David S. Kosson, Charles W. Powers, James H. Clarke, Roger R. Seitz and Elmer L. Wilhite,  Waste Management 09.
"Evaluating the Potential Impact of Using the Transport, Aging and Disposal (TAD) Canister on Yucca Mountain Pre-Closure Operations, Leah Spradley, Mark Abkowitz and James H. Clarke, accepted for publication in RadWaste (Best Paper Award – Waste Management 08 Conference).
"Monitoring the Long Term Performance of Engineered Containment Systems: What Can We Learn from Ecological Monitoring Approaches?", Brooke Traynham and James H. Clarke,  Waste Management 08, Phoenix, AZ  (February, 2008).
"Evaluating the Potential Impact of  Using  the Transport, Aging and Disposal (TAD) Canister on Yucca Mountain Pre-Closure Operations", Leah L. Spradley, James H. Clarke and Mark Abkowitz, Waste Management 08, Phoenix, AZ  (February, 2008).
"Managing Residual Contaminants – Reuse and Isolation Case Studies",  Kevin M. Kostelnik and James H. Clarke, Remediation, Spring 2008.
"Modeling Approaches for the Groundwater/Surface Water Interface: Critique, Challenges, and Needs for the Future", R. C. Palakodeti, E. J. LeBoeuf,  J. H. Clarke, C. R. Bartlett and N. R. Grosso, submitting editor requested  revisions to the Journal of Contaminant Hydrology.
"A Screening Tool for Determination of Process Importance Across the Ground Water/Surface Water Interface", R. C. Palakodeti, James H. Clarke and E. J. LeBouef, Annual Meeting of the Geological Society of America, Denver, CO, October 2007.
"Thoughts on Education and the Nuclear Renaissance: What Have We learned that Could be Important This Time?"" participation as invited panel member for and presentation in  Session on  "Preserving Worldwide Nuclear Competency – Where Education Institutional Knowledge and Industry Meet", Waste Management 07, Tucson AZ, February 2007
Committee Service
Nuclear Regulatory Commission Advisory Committee on Reactor Safeguards, consultant
Additional Information:
Detailed profile – Vanderbilt University


for publications, presentations, reviews and reports