Joanna Burger
Distinguished Professor of Biology
Rutgers University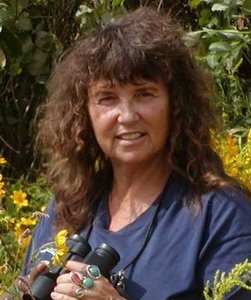 Email: burger@biology.rutgers.edu
Education
B.S., Biology: State University of New York at Albany
M.S.,Vertebrate Zoology and Science Education: Cornell University
Ph.D., Behavioral Ecology and Evolution: University of Minnesota
Honorary PhD: University of Alaska at Fairbanks
Research Interests
Behavioral Ecology
Ecotoxicology and Environmental Assessment and Monitoring
Ecological and Human Health Risk Assessment
Environmental Restoration and Ecological Integrity
Cultural and Recreational Exposure to Radioactive and Chemical Hazards
Balancing Risks and Benefits of Fish Consumption
Environmental Justice
Brief Biography
Joanna Burger is a behavioral ecologist and ecotoxicologist. Dr. Burger's research has focused on understanding the human dimensions of environmental assessment, particularly with respect to Department of Energy nuclear legacy sites. She has integrated basic research on the effects of toxic chemicals and environmental disturbances on ecosystems (including eco-receptors and humans), with development of environmental assessment tools and biomonitoring plans, and assessment of human concerns and risk perceptions.
Her research has included:
Examining consumption patterns and mercury levels in fish around several DOE sites, leading risk reduction and risk communication strategies,
Examining radionuclide levels in biota around Amchitka Island,
Developing conceptual and site-specific biomonitoring plans for sites and situations that focused on food chains
Examining levels of mercury, cesium-137, and other contaminants in biota on and around DOE sites that could lead to ecosystem and human exposures,
Considering methods and issues surrounding footprint reduction at DOE sites in terms of contaminant exposure, among others.
Her research on DOE, energy and stakeholders has examined demographics, knowledge and culture impacts on perceptions of environmental effects and on ecological and human health risk paradigms. She has developed models for inclusion of people into research and decision-making, and has implemented these around nuclear waste sites (Savannah River, Amchitka Island). Her research has shown that inclusion and participation of a wide range of stakeholders (from governmental agencies, tribes, regulators, industry, NGOs, and others) can facilitate meaningful communication leading to cost-effective and widely acceptable environmental decisions. Protection and recovery of degraded systems will not occur without sound environmental assessment, biomonitoring, and inclusion of stakeholders in the decision-making process. She has conducted research in all three areas, bringing together methods and protocols for each of the above, and making environmental management less contentious and efficacious.
CRESP Projects
Exposure and Risks from Mercury in Fish in the Savannah River
Environmental Monitoring and Bioindicator Selection at SRS
Perceptions of Future Land Use of the Public around SRS, Los Alamos, INL and Brookhaven
Footprint Reduction at DOE sites (spatial, not contaminant-based)
Radionuclides in Biota around Amchitka Island
Stakeholder Involvement in Biota Assessment for Amchitka Island*
Stakeholder Involvement – Synthesis and Case Studies of DOE and other sites*
Perceptions of the public about NRDA at SRS, Los Alamos, Hanford and Oak Oak Ridge*
Perceptions of NRDA and ecological goods and services at several DOE sites*
Comparison of Ecological Buffers around DOE and Commercial Power Plants*
Development of Environmental Assessment Courses for nuclear facilities*
* = Current CRESP Projects
Committee Service
CRESP Management Board
Nuclear Regulatory Commission: Educational Grant Selection Committee (2008-2010)
California Scientific Review Committee for Wind Energy (Altamont Co.)
Graduate Student Committee (Brooke Traynham)
Additional Information:
Detailed profile – Rutgers, The State University of New Jersey


for publications, presentations, reviews and reports